Safety & Training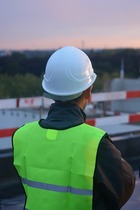 Under the Occupational Safety and Health Act of 1970 (OSH Act), employers are responsible for
providing a safe and healthful workplace for their employees. A strong adherence to OSHA workplace
standards not only makes "good business sense" it also makes good financial sense.
Eco Environmental Services adapts its service procedures to complement our client's existing
occupational safety and health management systems; to ensure compliance with OSHA regulations.
Crew members are instructed that on the job site, they must wear, as required, hardhats, safety glasses, safety vests, and hard-tipped shoes. All personnel are taught about the chain of command, including one-on-one communication with fellow workers and other customer and subcontractor employees.
In addition to safety issues, these sessions teach correct product use, and review new products available. The Operations Manager reviews all product MSDS and product information sheets in order to be aware of the safe usage of each product, and to be aware of the products' health hazards; required protection; special handling, and general requirements.
This is a "living program" that constantly changes to reflect new and better/enhanced safety methods. This safety program is reviewed by the Operations Manager, and in return, reviewed by the Crew Supervisors, who remain on the cutting edge of jobsite safety in the workplace.
---